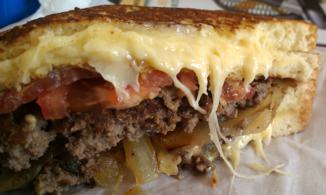 Celebrity chef Anthony Bourdain coined the phrase "Food Porn" when he noted several physiological similarities when watching culinary television or adult videos. He described the salivary and circulatory responses while anticipating good food as akin to intimate arousal. The transient sensual pleasure of consumption is both a biological necessity as well as a mild hedonism. Food and travel shows, he noted, are designed to deliver the same voyeuristic pleasure that adult films do. Bourdain's own show, No Reservations, does a fantastic job of conveying exotic culinary indulgences from every corner of the globe.
For a resident of the most isolated location on Earth, such as myself, Bourdain's show serves to both agonizingly stimulate and mildly satisfy my inevitable wanderlust. However, although isolated, Hawaii, being the crossroads of the Pacific, is also one of the most unique culinary destinations in the world. Where else can you find the cuisines of Hawaii, China, Japan, Korea, the Philippines, Portugal, Vietnam, Thailand, India, Greece, Puerto Rico, Cuba, Mexico, Ireland, Italy, France, the American South, and many others, all authentically represented and enjoyed by everyone? Furthermore, because of our isolation, the immigrant populations of Chinese, Japanese, Koreans, and others who have lived here for a couple of centuries, have created their own styles of their respective cuisines which are almost unrecognizable by visitors from their motherlands. Finally, picking the best of and occasionally the fusion of all these different flavors, has resulted in what we call our own "local" cuisine, which is a unique entity in of itself and endemic to these islands.
As Bourdain shared the indigenous cuisines of the world with us, so my pride in my island home compelled me to do the same with our own unique culinary landscape. While my first attempt at this endeavor, my blog, Goo Grindz (http://googrindz.blogspot.com), was academically insightful and heartfelt, I learned that no matter how colorful the verbiage, prose is never as provocative or attention grabbing as direct visual stimulation. So, although comparatively neophyte at photography, I set out to explore my backyard and capture the spectrum of flavors that inhabit these islands. I wanted to share not only the classic dishes that I grew up with, but give exposure to my favorite, often little known eateries that in my opinion offer the tastiest, most authentic versions of these dishes. It is a story not of culinary technique and delivery, but of the history and culture of the people of Hawaii.
So please, sit back, relax, and allow me to tantalize you with the colors and textures of our local culinary delights. I hope that, in your mind's eye, the essences and aromas will be freed of the page and in that brief, ephemeral taste, you will understand how special it is to be a part of this place.
Aloha,
Justin M. W. Goo